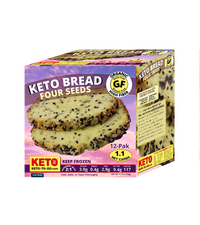 Organic Keto Four Seeds Butter Bread 12 Slices
Four Seeds Butter Bread KETO Gluten Free Low Carb Ketogenic - 
We vacuum seal two slices in one oxygen sealed container to preserve freshness during transit and freezer storage upon arrival to you.

THESE NUTRIENTS ARE FOR 4-Seeds Butter Bread.
% Fat 73%
Net Carbs per slice (all our butter cakes and breads are almost identical)
Between 1.3 Net Carbs Per Slice
VERY VERY HIGH FIBER! GREAT FOR KETO TUMMY ISSUES!
We make our products fresh weekly, we ship on Mondays & Tuesdays, you might have to wait but food will arrive fresh! We are a small start-up company and want your feedback. If we missed something on our list, reach out to us and let us know! Remember, if you order on a Monday or Tuesday, we might not be shipping till the following week UNLESS you live in our neighborhood :-)...

We do not use any of these ingredients NO XYLITOL! NO ERYTHRITOL! NO SUGAR ALCOHOLS! NO ERYTHRITOL! YUP! That has been found to disrupt the microbiome and cause gastric disturbance! NO ARTIFICIAL SWEETENERS such as ASPARTAME, SORBITOL, SACCHARIN, SUCRALOSE ETC… no hidden sugars of any kind EVER! ALSO NO STEVIA as we have read that Stevia can disrupt the microbiome.

We only sweeten with the tiniest eeny weeny bit of extremely high quality Organic Monk Fruit.