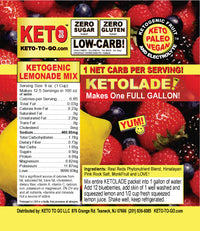 KETOLADE! Electrolyte Phyto-Nutrient POUCH!
Mix this packet into one gallon of water with either 12 blueberries and 1/2 cup fresh squeeze lemon juice, SHAKE WELL and keep frozen or in the fridge. I prefer using 1/2 cup of chopped strawberries instead of blueberries, but up to you. The Strawberries give it a very VERY special thick soft luscious texture.
YUMMY way to hydrate while staying in KETOSIS!