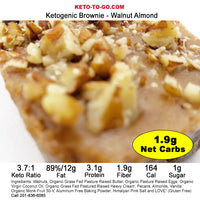 Walnut Almond Keto Brownies 6-Pak
KETO BROWNIE - Walnut Almond Gluten Free Low Carb Best Keto Snacks Keto Dessert 
ou Deserve to treat yourself to a luscious scrumptous 1.5 net carb KETOGENIC Brownie to help you eliminate your sugar cravings!

Great ingredients!
Only whole foods!
Extreme and therapeutic LOW CARB high fat product.

Approved by Doctors and Dietitians for a strict KETOGENIC DIET
BEST KETO SNACKS on the planet!
BEST KETO DESSERTS on the planet!
BEST KETO BROWNIES - Try and see for yourself!!!

Sweetened ONLY with the tiniest amount of organic Monk Fruit 50V - pure (no sugar alcohols mixed in) imported from China.

We are one KETO bakery where you will NOT get any GLUTEN,
or any sugar alcohols, or stevia or any artificial sweeteners, no soy, no thickeners, no gums, no chemicals, no additives, no "natural flavors" only whole food ingredients all the time without ever deviating from that mission!

We are the CLEAN HEALTHY OPTION 100% GUILT FREE!
We make our products fresh weekly, we ship on Mondays & Tuesdays, you might have to wait but food will arrive fresh! We are a small start-up company and want your feedback. If we missed something on our list, reach out to us and let us know! Remember, if you order on a Monday or Tuesday, we might not be shipping till the following week UNLESS you live in our neighborhood :-)...
We do not use any of these ingredients NO XYLITOL! NO ERYTHRITOL! NO SUGAR ALCOHOLS! NO ERYTHRITOL! YUP! That has been found to disrupt the microbiome and cause gastric disturbance! NO ARTIFICIAL SWEETENERS such as ASPARTAME, SORBITOL, SACCHARIN, SUCRALOSE ETC… no hidden sugars of any kind EVER! ALSO NO STEVIA as we have read that Stevia can disrupt the microbiome.
We only sweeten with the tiniest eeny weeny bit of extremely high quality Organic Monk Fruit.